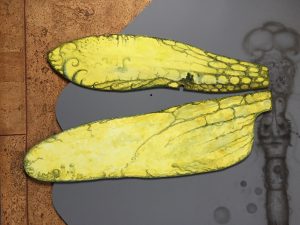 As I set out on my way to discover the story of the Dragonfly, I wanted to combine the two technics I came to love and resonated with my inner-being. One, the almost black and white art painted with acrylic paints and the airbrush and two, the colorful and many layered oil painting made with paintbrushes.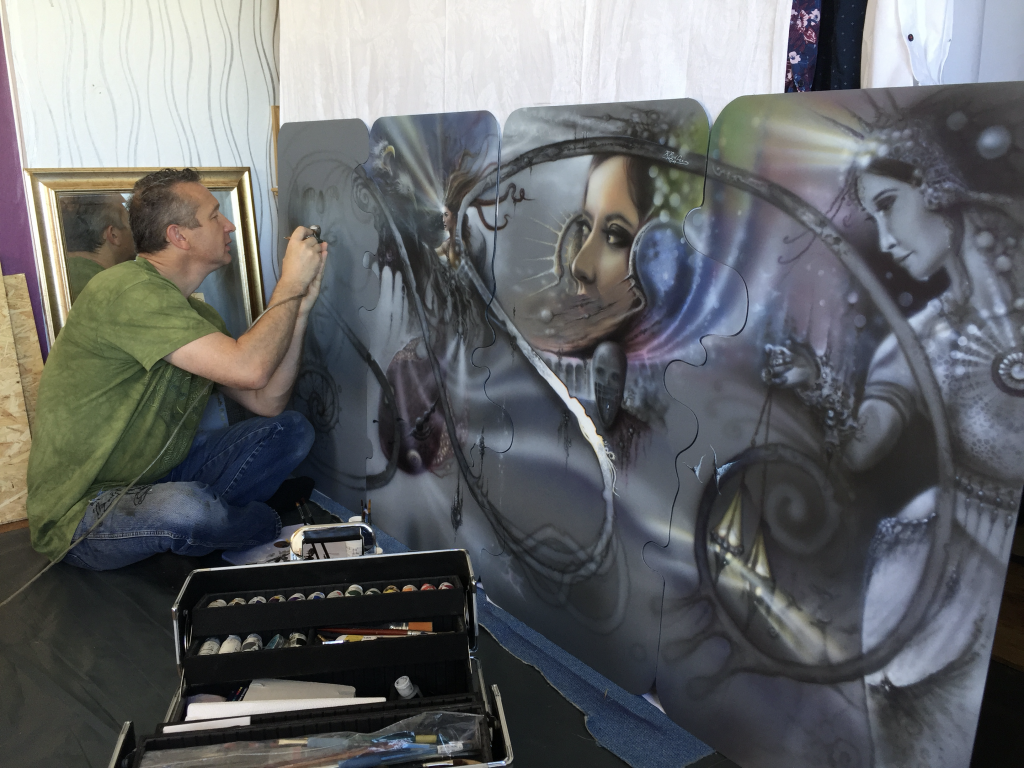 I no longer have to apologize about using an Airbush, because I don't care, it's my tool of creation. If there are clever people that think that art made with an airbrush is no good, they should check out H.R. Giger. But it doesn't matter, I have to do me, as you should do you. I know that now.
So this time I don't needed to show my skills of rendering in acrylics with the airbrush are equally good as with oils and paintbrushes. No, I only have to create what's inside of me. No now I wanted to combine the two because I love the two styles, that are actually one fit together. And as I am writing this blog I realize it's another point to cross of my " this I want in my art" list.
The moment I really let go of al the things I believed I needed to do, to have, to achieve and so on. I started creating out of my passion for my crinkles and discovery, things started to happen I could cross of a lot of things from my this I want in my art" list. I didn't take any effort. It was like the time I was a pimpled face adolescent and wanted a girlfriend. I did my best in the disco to be witty and cool and charming with no succes. As I got fed up with not being myself I would start having fun with my friend, just dancing, goofing around, having fun and suddenly I was a 'chick-magnet'. The girls came to me and wanted to talk to me (and sometimes more ?). Some times we try so hard that we ruin it.
How it all comes together if you finally let it go and flow.
I painted the little Bellydancer "It's Magic" and loved how it looked at the gray background of the "Discovery 1.0" painting. However I could not find a place for it in the 100cm x 200cm big painting. With the Dragonfly I imagined the wings to be a world of there one and I imagined them in yellow and green. Not my first pick of color but I needed to be true to my Inneristic style. The discovery of this style is one of the best things that happend to me.
If you would like to find your way in the Inneristic style or want to buy my art while it's still cheap. Talk about life and art, feel free to call me 0031(0) 610 56 23 96
P.S. Here You can vind an inspiring video about the world inside my head.
Ontdek het verhaal van de Libelle.
Toen ik op pad ging om het verhaal van de libelle te ontdekken, wilde ik de twee technieken combineren waarvan ik ben gaan houden en die resoneert bij mijn innerlijke wezen. Eén, is de bijna zwart-witte kunst geschilderd met acrylverf en airbrush.Twee, is het kleurrijke en de uit vele lagen opgebouwde olieverfschildering gemaakt met penselen. 
Ik hoef me niet langer te verontschuldigen voor het gebruik van een Airbush, Het kan me niets meer schelen, het is mijn instrument van creatie. Als er slimme mensen zijn die denken dat kunst gemaakt met een airbrush niet goed is, stel ik voor dat ze het werk van H.R. Giger eens bekijken. Maar het maakt ook niets meer uit, I have to do me, as you should do you.
Dus deze keer hoefde ik niet te laten zien dat mijn vaardigheden in het renderen van acrylverf met de airbrush even goed zijn als met oliën en penselen. Nee, ik hoef alleen maar te creëren wat er in me zit. Nu wilde ik de twee combineren omdat ik dol ben op de twee stijlen, die eigenlijk één zijn en perfect bij elkaar passen. Terwijl ik dit blog schrijf, realiseer ik me dat het weer een punt is om mijn "dit wil ik in mijn kunst" lijst te schrappen.
Op het moment dat ik echt alles losliet waarvan ik dacht dat ik het moest doen, hebben, bereiken enzovoort. Begon ik te creëren vanuit mijn passie voor mijn 'kringels' en het ontdekken. Er gebeurde dingen. Ik kon een heleboel zaken van mijn "dit wil ik in mijn kunst" lijst schrappen. Deze keer heb ik geen enkele moeite gedaan. Het herinnert me aan de tijd dat ik als puistige puber op zoek was naar een vriendin. Ik heb mijn best gedaan in de disco om ad-rem, cool en charmant te zijn, maar zonder succes. Tot ik het zat was niet mezelf te zijn, dan begon ik plezier te maken met mijn vrienden, gewoon dansen, rond dollen, plezier te maken, plotseling was ik aantrekkelijk. De meisjes kwamen naar me toe en wilden met me praten (en soms meer ?). Soms proberen we zo hard dat we het verpesten.
Hoe het allemaal samenkomt als je het eindelijk loslaat en de stroom volgt.
Ik schilderde de kleine olieverf schiderijtje 'It's Magic' en vond het geweldig hoe het eruitzag tegen de grijze achtergrond van het schilderij 'Discovery 1.0'. Ik kon er echter geen plaats voor vinden in het 100 cm x 200 cm grote schilderij. Met de Dragonfly stelde ik me de vleugels voor als een wereld op zich. Ik stelde ze voor in het geel en groen. Niet mijn eerste kleurkeuze, maar ik moest trouw blijven aan mijn inneristische stijl mijn innerlijke stem. De ontdekking van deze stijl is een van de beste dingen die me is overkomen.
Als je je weg wilt vinden in de Inneristische stijl, of als je mijn kunst wilt kopen nu het nog betaalbaar is, of je wilt gewoon praten over werkelijk leven en kunst, bel me gerust 0031 (0) 610 56 23 96
P.S. Hier een inspirerende video, over de wereld uit mijn hoofd.