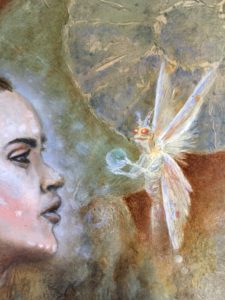 (mission statement)
Rob van der Lei was touched by art at the age of 5.He was exhilarated and at peace at the same time, a connection with his inner spirit that recognized his longing to discover. Sinds that day he invites the viewer to feel exactly as he did in that moment in time. To do this, he creates worlds that invites the viewer to dream up stories.
World with foreign tastes and flavors where strange creatures and symbols float trough a mystical landscape in an under water like universe.
Transparent shapes and mystical mists spark stories that are sometimes dark, sometimes light and sometimes melancholic but always invites to discover more.
The story we tell ourselves impacts our lives. Let Rob ignite the story of your life.
Discovery 1,0 Acrylic paint on Dibond 1m x 4 times 0,5m